Highlights:
Breakfast
Zip line
White water rafting
Food
Chilled in hot springs and slides
Dinner at restaurant
More hot springs
First day of adventuring and we had to wake up at 6:15am since we were getting picked up at 7:15am for ziplining. We waited till the last possible minute to get up and looked outside to see if was raining– it was. We still put on our bathing suits and headed for breakfast where we were pleasantly surprised- a full buffet waiting for us! We're the slowest eaters you'll ever meet so we didn't hesitate to get started. They had a selection of local food such as rice, plantains, chicken and tortillas, and also fruits, cold cuts and cheeses, pancakes, pastries and toast. Of course I went for the local food and piled in the tortilla, scrambled eggs, chicken and pico de gallo. We had a huge day ahead of us! After scarfing down our food because we took so much time looking, we headed to the the lobby to get picked up.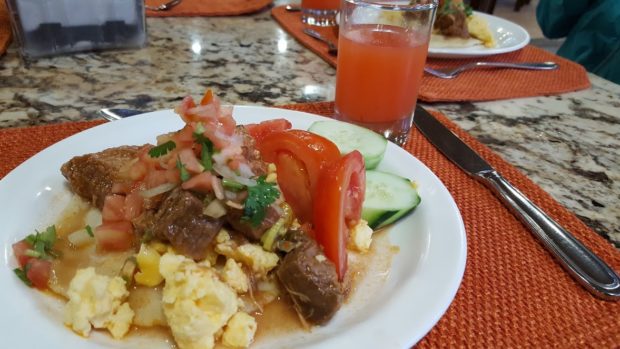 They were prompt, 7:15am on the dot! We rode for about 20 minutes where we got dropped of in a very nature-y area. There, we checked in and met 2 other families we would be ziplining with. They gave us all our equipment and we went on the back wagon of this tractor and started a super bumpy ride to our first zipline. Once we got there, we climbed the stairs and they explained all the rules such as where to place our hand, tilting our head so it doesn't get caught on the line, how to cross our legs and when to break.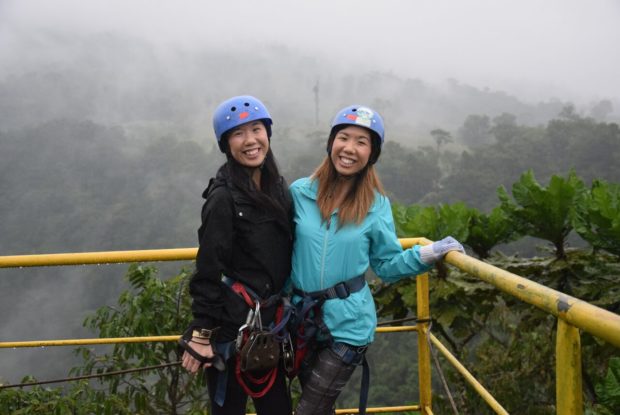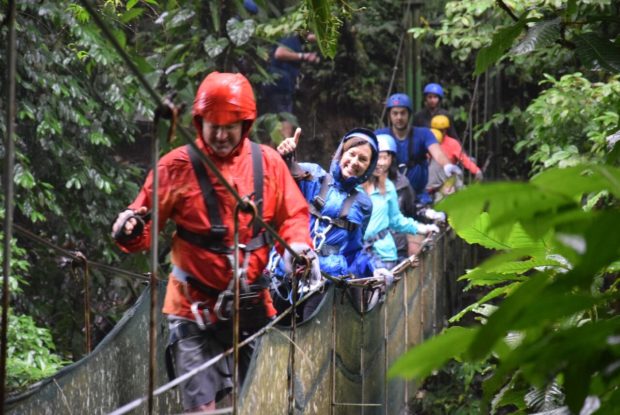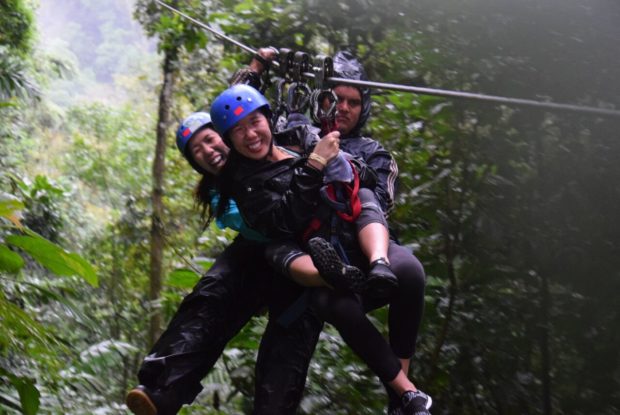 Then, they didn't waste any time and sent the first person down the zipline. When it was my turn, the strapped me in and off I went! It was super exhilarating and as I looked down, it was super lush and green, and I even saw a waterfall! I was so excited from the thrill of the first one, I couldn't wait till my next. When it was my sisters turn, she got stuck and everyone watched her pull herself in. It was hilarious to watch! She was the only one that didn't make it that day. When all of us finished, we did a small hike up to the second one and went again. For one of them, I went with my sister and a guide because we were too light for it. We continued through 11 lines total as it kept on and off raining, but it didn't really bother me since it was so much fun! The guides were also great as they were cracking jokes, for some reason smacking our helmets, and entertained us.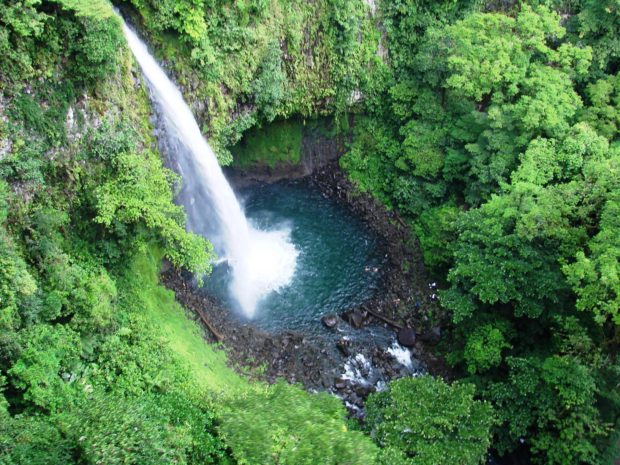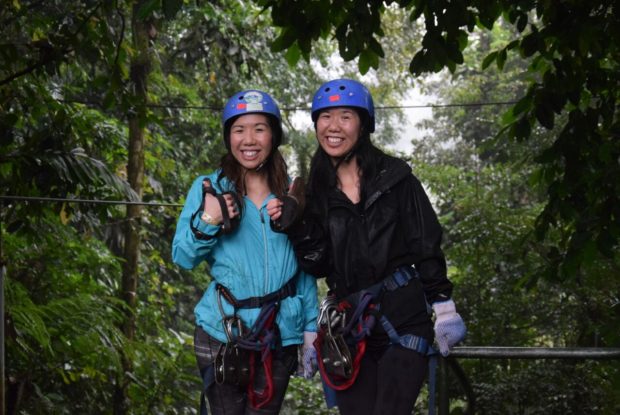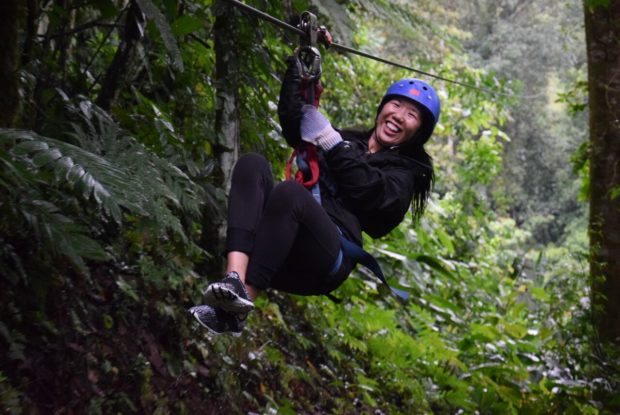 When it was over, I was sad, but our next adventure of white water rafting awaited. We got back in the tractor where they dropped us off back to the waiting area. We found out at that point that we wouldn't be getting lunch until after the second excursion so we were debating whether to get chips or not ( it was the only snack they were selling). Instead, we looked at the proofs of our photos and videos that they took and paid to get a copy emailed to us. While I didn't see the photographer (the guides called him paparazzi) take many photos, there were actually some pretty decent ones taken!
After that, they called us to get on a bus, dropped us off at another tour center where we picked up more people and got on another bus. Our guide Diaz introduced himself and said this next place in the Balsa River was about an hour away. We were going white water rafting! During the middle of the ride, they stopped on the side of the road to see yet another sloth which I'm pretty sure is the same one we first saw coming here. They gave us a couple minutes to take our pictures and got back on the bus where we made on more bathroom stop before officially getting to the Balsa River. Right before we stopped, Diaz gave us all the basics and safety instructions. Once we got there, we got our helmets, life vest and paddles right away. Then they sent us down the the river where we hopped on our raft. Man they are efficient!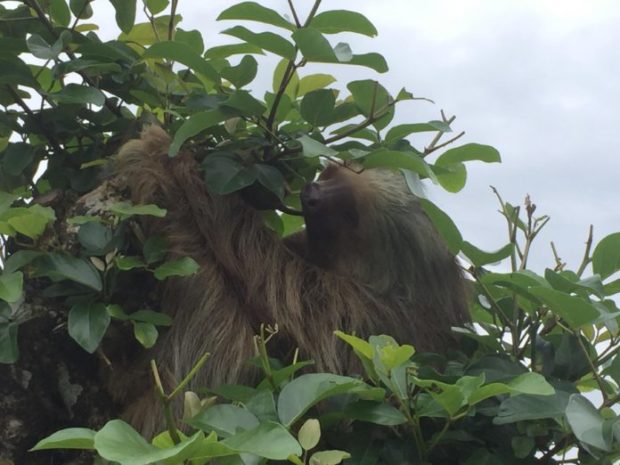 We got on with an older couple and a guy from Chicago. The guy from Chicago sat in front of me and the lady sat behind me. My sister sat next to me. The two guys were the leads which we later found that they couldn't synchronize themselves at all. Our next guide, Marco, taught us what to do when he yelled at us such as get down, lean in, and how to paddle. Then off we Went into class 1,2, and 3 rapids.
The beginning must have been class 3 rapids since we were being drilled. One minute we were paddling, the other were getting down, then leaning in. It was non stop as we would duck from the waves that would eventually hit us and screamed at the cold water hitting us every time. Well, I think just my sister and I screamed haha. Even though the water looked dirty and brown, it was actually pretty fresh. Also, I swear Marco was making us work more than all the other boats because it seemed like they were just chillin. When the river slowed down and there wasn't as much waves, Marco was able to steer us to see some wildlife such as birds, sloths and different kinds of trees. We even did several high fives with our paddles and yelled Pura Vida!
About an hour in (which passed by hella fast), we stopped by this random area with a couple animals. The guides cut pineapples and watermelons for us to eat which was so refreshing after all the exercise. They we hopped back on to our rafts to finish about 15 more minutes of the river. Once we were done, we all changed and got back on the bus.
Finally, it was time to eat and they drove us to this random restaurant in the middle of nowhere (at least i didn't know where we were) to get something to eat. I was so excited because they had another buffet with more casados (traditional Costa Rican food). I ate about 1.5 plates since I was hungry from all our adventures. We ate in an open window restaurant which was really scenic since it was so green. After lunch, they explained to us how they made the coffee and poured us each a cup.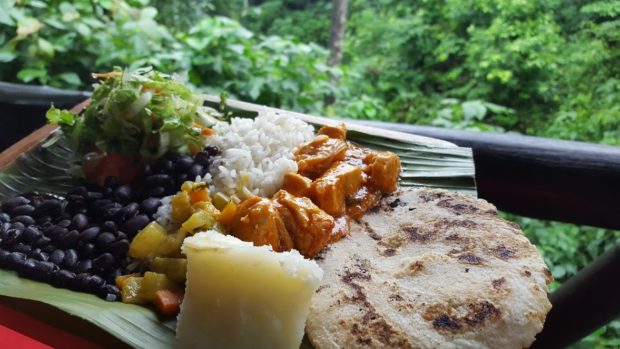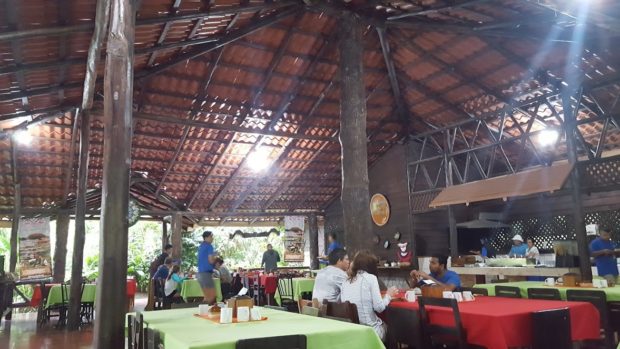 The food tour wasn't over though. They brought us next door where they showed us how to squeeze out all the juice from a sugar cane and let us try some. It was lightly sweet and super refreshing. For the adults, they also had some moonshine with sugar cane that was 100 proof and 60% alcohol. I had a little bit, but it was strong! That woke me up for the rest of the car ride.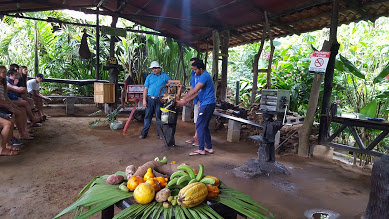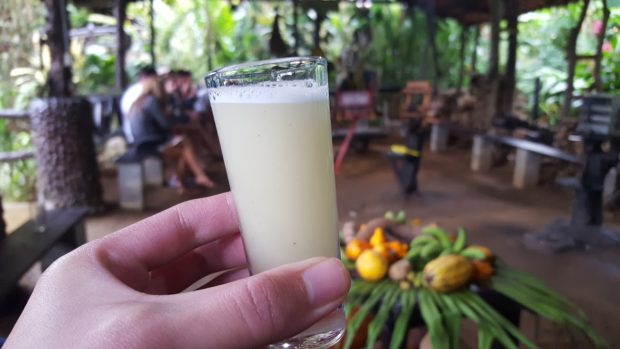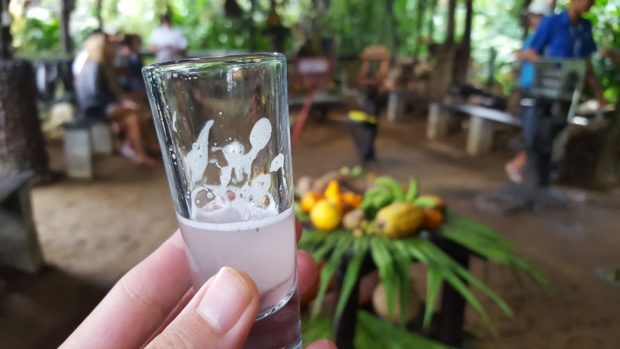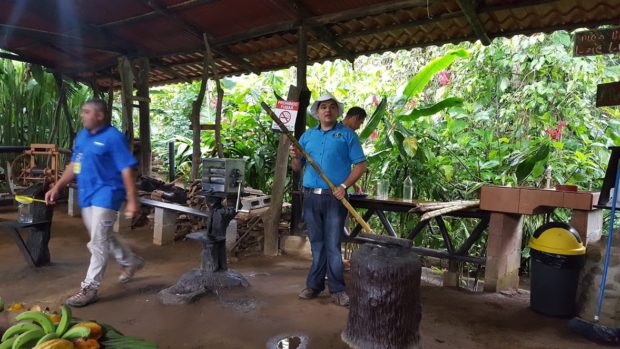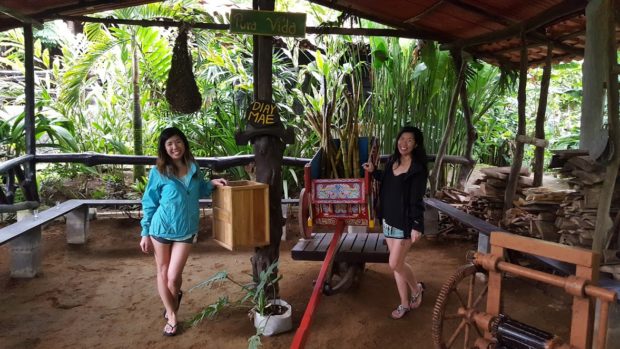 We got dropped off at our hotel around 4:30pm and my sis and I didn't hesitate to head straight to the pools. We walked around to check them out and settled for a warm hot springs pool since it was a bit cool and rainy out. There was a mini slide so we went on it. Then we moved on to a hot springs with a bigger slide and had a lot of fun going down that one. When we were finally hungry, we got changed and headed to the restaurant at the resort.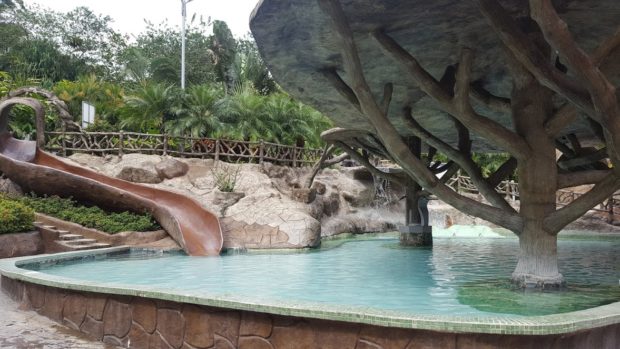 The hotel restaurant had both a buffet and a la carte option, but we opted for a la carte because the buffet looked pretty similar to breakfast. While prices were on the higher end, we still got 2 dishes. The waitress started us off with bread and butter which was delicious, probably because we were pretty hungry. Then our seafood spaghetti and chicken rice came. Both portions were big so we ended up taking some leftovers.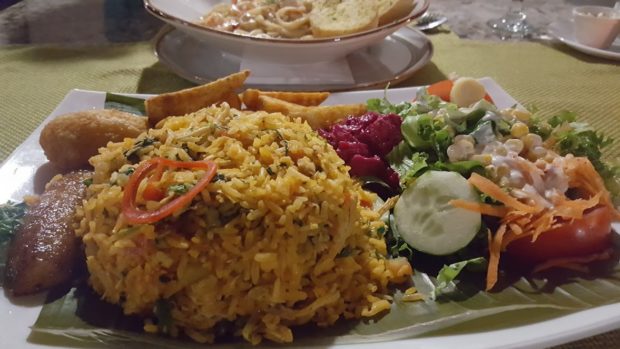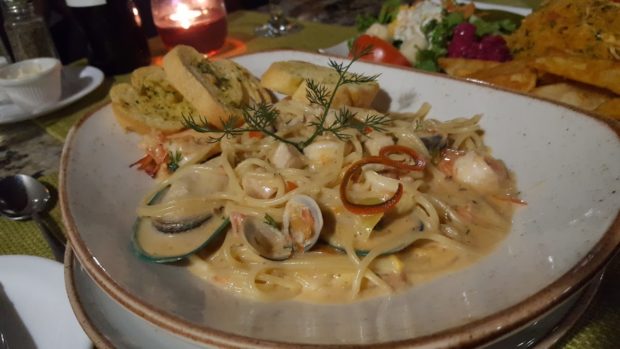 The chicken rice was pretty much like a fried rice with stewed chicken in Costa Rican spices which also came with a salad with ranch which we didn't eat, plantains, fried yucca that pretty much tasted like fries, and a croquette with cheese. This dish was pretty good and better than what we expected from just chicken and rice. The seafood spaghetti on the other hand was really creamy and saucy with was mixed with white wine. The pasta was chewy but not soggy. What we noticed about Costa Rica is they load on the seafood so there was no shortage of shrimp, squid and fish! After our delicious dinner, we headed back to the hot springs to sit around until it was time to sleep.