Highlights:
Breakfast
Animals
Lounged
Lunch by hot springs
Kayaking
Nap/Pool
Dinner
More hot springs
Chilled in Lobby
At this point, I'm starting to get really excited about waking up for breakfast. I got dressed really quick and headed down to the restaurant. When we got seated, we didn't hesitate to head over to the buffet. Everything was pretty much the same as the day before except instead of chicken, they had papaya hash and sausage. I was kind of disappointed since I really liked the chicken but the sausage was really good and the papaya hash had some kind of meat in it that made it really tasty. I made sure to load up on the pineapples too! They are somehow way sweeter and more tender than those I eat in California.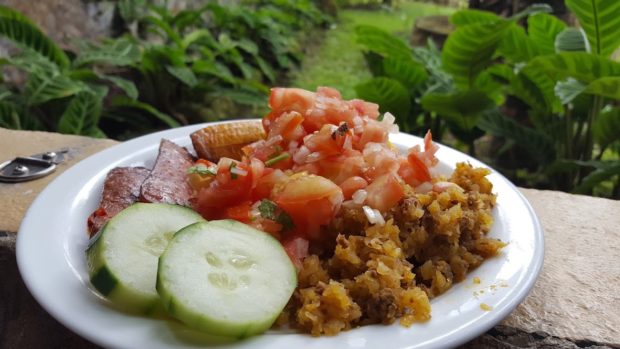 After breakfast, we still had a lot of time before our next excursion so we decided to visit the animal area of our hotel. We strolled through a garden like path to first reach the turtles that were just chilling in.the pond. Nothing really exciting there. Then we moved on to where everyone else was which was with the crocodiles. There were two behind a fence and they kind of look fake because of how dry and scaly they were. Not to mention, they weren't moving at all either. After getting creeped out, we headed back up where we passed the butterfly exhibit which we watched a bit from the outside because we didn't feel like going in. Side the frog exhibit was closed,  we made our way back out.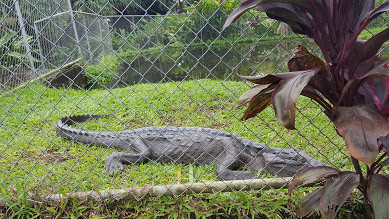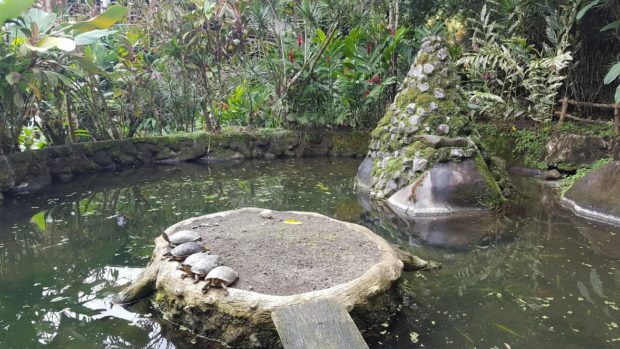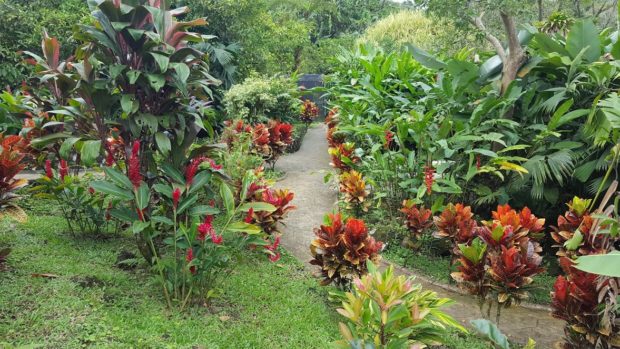 With still more time left, we chilled in one of the secluded parts of the hot springs (not that many people go in the mornings). While my sister worked on her blog, I just rested my eyes on a lawn chair since I didn't have a laptop of Wi-Fi to work on. So I pretty much laid there for a good hour. Then we went back into our room to put on our bathing suit, sunscreen and bug spray. Because we still needed to eat lunch, we took out our leftovers we brought back from the previous days and brought them outside to the pool again to eat, since we didn't want to eat in our rooms.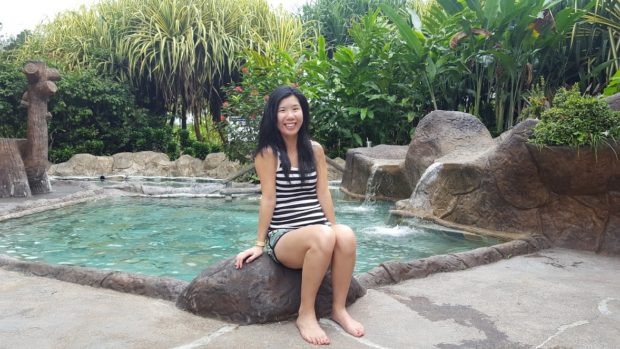 When we finished, we headed towards the lobby where we got picked up for kayaking. We got on the bus and headed the opposite direction of town for about 20 minutes until we got to Lake Arenal, which is actually a man made lake. Lucky for us, it wasn't raining that day, but it was overcast and the sun was trying really hard to peak out. We walked out to the dam on the right side and the lake on the left. We watched as our guides brought the kayaks down to the lake. Hey, who was I to try and get in anyone's way!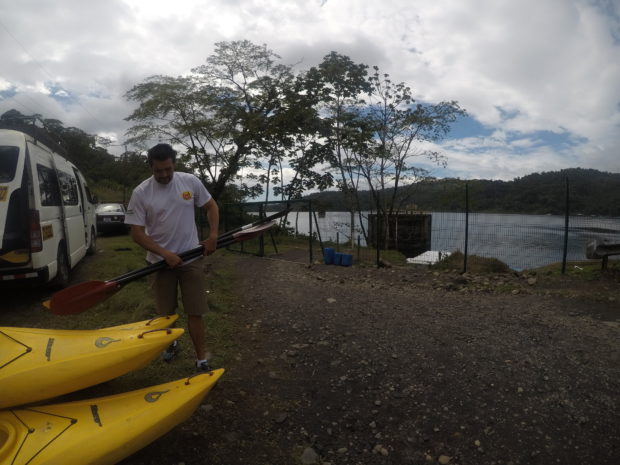 Since it was only me and my sister, we got a private tour. After some quick instruction, we paddled out to the lake and we were the only ones out there! As we paddled, our guide directed us towards the edge of the lake to watch out for different birds and animals. We casually paddled the lake as it was hella peaceful and we were still literally the only people in it. Then a couple boats quickly went by, creating some waves and then we were back to the peace.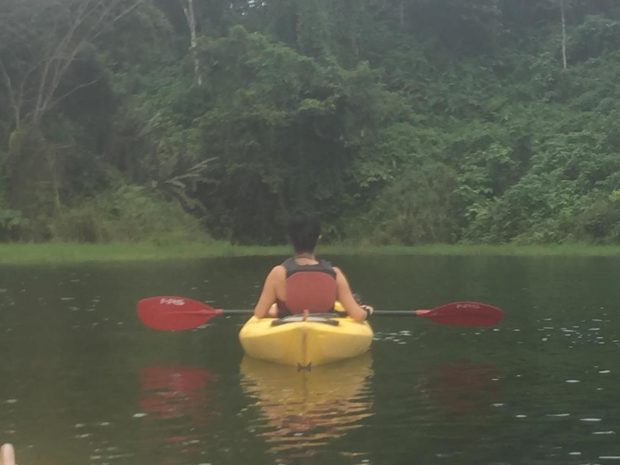 My sister and I kept yelling at each other to take pictures and videos. Our guide was nice enough to offer to take pictures of us, especially when we wanted it in front of the volcano. He told us to hurry over because the fog was clearing up so we could get a good shot with the volcano. We paddled around and our guide pointed out some more birds before we headed back. 2 hours went by pretty quick! He loaded us back onto the bus with a bottle of water and we were on our way back to the hotel. When we got back, we were so exhausted from kayaking, we ended up taking a 1.5 hour nap.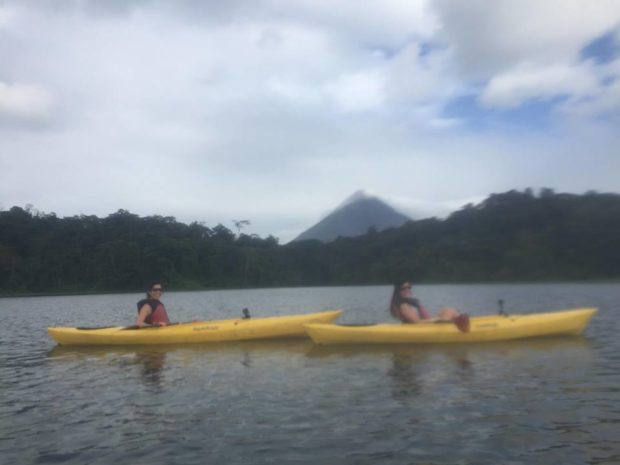 When we woke up, we headed towards the pool again and chilled at our usual spot by the pool bar. Though it had the hottest water and while it wasn't raining, it was still on the cooler side. We literally sat around until we got hungry. We grabbed our towels and went back to the pool where we sat around the bar for dinner and ordered a tilapia ceviche and seafood pizza. The ceviche was super fresh and came with these thick, crunchy chips. We gobbled them up since we were hungry. We had to wait a little while longer but our pizza finally came. It was thin crust and had light sauce with a good chunk of seafood, just the way I like it! We each ate half and was satisfied. I swear, the seafood in Costa Rica tastes really good!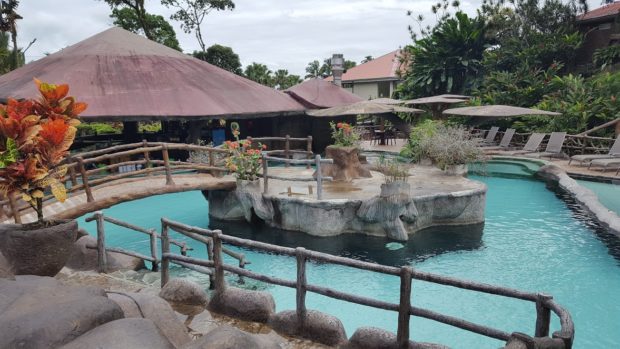 After resting for a tad, we pretty much just went back into the hot springs and chilled for another hour. I don't know how we could just sit in water for so long, but we did — Especially when it's at a resort. When we got done with that, we took a shower and went to the lobby where it was the only place that has Wi-Fi. I start on my blog posts for this trip on my phone while using the Wi-Fi to save to the drafts in my email. I know, ghetto but my iPad wouldn't work. After writing about day 1, it was time to head to bed. Surprisingly, I still knocked out even after taking a late nap.