Highlights:
Breakfast
Lounged in hotel room
ATV
Nap
Pool Bar
Downtown Fortuna
Souvenir shopping
Soda Ama
Lava Lounge
Restaurante Nene
Hot Springs
Our last day was really bittersweet since we didn't want to get back to reality, but we still had one more full day to take advantage of! Woke up for the usual breakfast and had the usual plate of tortilla, fried egg, pico de gallo, plantains and pork. The pork was tasty, but had green onions in them so I had to pick them out and didn't enjoy it as much. I tried to get another plate of my last breakfast, but the lady already closed down the fried egg bar and taken away the eggs. So sad! We finished up what was remaining of our breakfast and contemplated whether the ATV trip will feed us before or after the trip. We finished up our breakfast and headed back to our room where we rested a bit, but we actually had to leave for this excursion sooner than we had for the other ones. We took our time putting on our sunscreen and bug spray and headed back to the lobby to wait for our last excursion!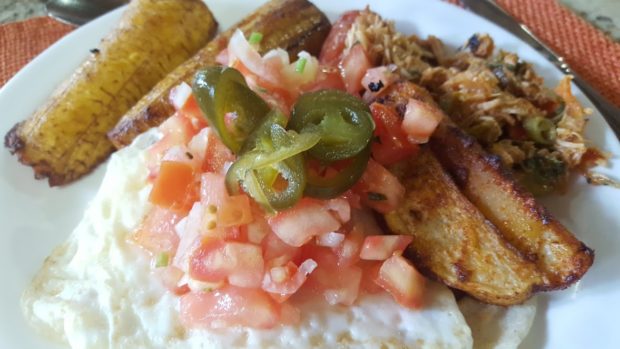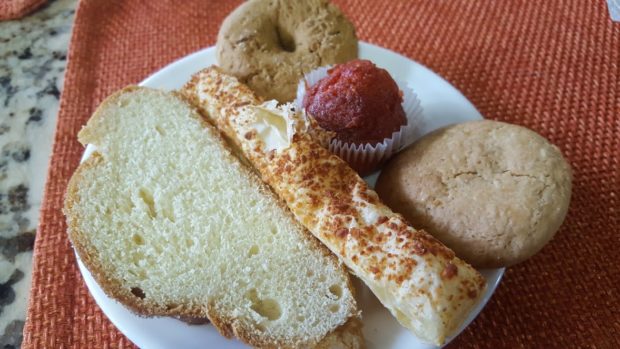 Our bus came to pick us up and we were driven to La Pradera Resort where we met up with other families to go ATV. We signed in at the front desk and got to choose a meal for after the ride. My sister and I had previously chosen to go together so we were put on one ATV. There was a couple people that went together as well, but most were singles. Our guide gave us a tutorial on how to start it, brake, and other logistics. There was quite a few things to remember! I let my sister drive first since we were told we got to switch after. Truthfully, I was kind of nervous because I didn't know what to really expect.
We started our ATVs and I hung on to my sister's waist and to the back of the ATV for stability. We went across the road and started to just drive right into the super rocky and windy road. It was even more nerve wracking because my sister was still learning how to drive it! We were ahead of a couple people, but actually slowed down when my sister couldn't control the ATV and we went too fast up the side and our ATV tilted in a 45 degree angle and we both toppled off. 3 minutes in was when I decided that this was not safe at all and I was pretty much over it. But we had to keep going and we were behind so we tried to catch up but it was still hard to maneuver. Probably because she also had to carry my heavy ass too.
It was mainly the hills where we got stuck. We would try to go up a hill and then get stuck right before we got to the top because there wasn't enough speed. So we had to let the ATV roll back and then ramp it up again. Sometimes it would take us 4 tries to get over! Sometimes, the whole group would wait until we caught up and then started going again. We even toppled over again. How embarrassing. I can tell the guide helping us wasn't too happy that we kept getting stuck and for some reason our ATV would just randomly shut off and it was kind of complicated (but not really) to restart it again so we kept needing help. It was pretty frustrating because everyone else seemed to be doing fine.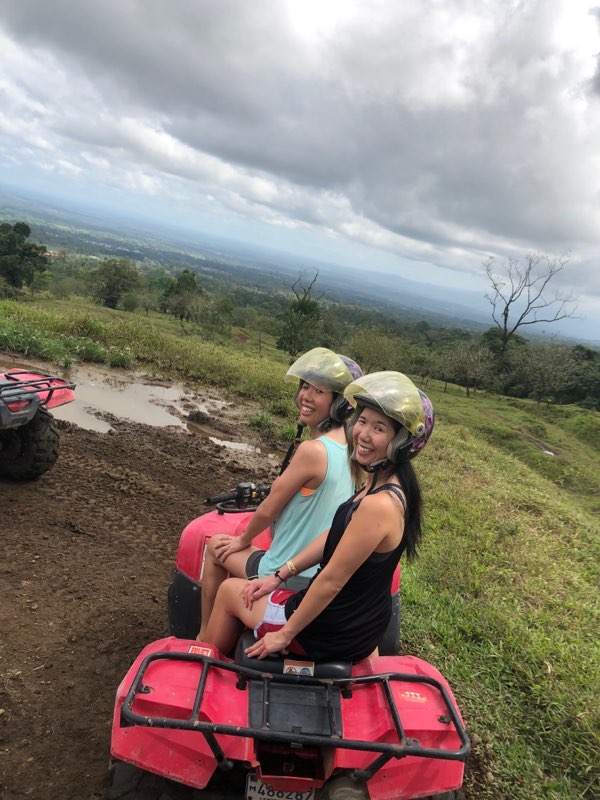 After a small break, we asked if we could switch drivers to let me drive and the guide said no. I was frustrated because they had told us we can switch, but he said that we were going up more hills and I was probably too newb to do it. I wasn't too happy after that. So my poor tired sister drove again and it became even more hilly and rocky. Just as we thought we were done, we rode on the road and crossed into some residential areas and finally to an area just passed the Balsa River where we got to hang around and drank water. We didn't get the memo to wear our bathing suit, but we've been in the water every day so we decided to just stand around and chill. Since getting to the river was relatively easy and way more flat, we asked if we could switch the drivers and the guide still said no because we had to go up 1 huge hill. At this point, I was pissed because I didn't just come to sit in the backseat. It was barely comfortable enough to even look at the scenery because I was so nervous about flipping over because of all the rocks and hills! And the whole point of it is to drive.
We got back and I was still grouchy because all I did was sit in the back to bounce up and down waiting to see if we would topple over again. Considering we both hated driving, it was good to experience ATV-ing since we've never done it, but it was definitely the least fun thing we've done here. At least for us because we hate driving, but if you love driving, it's actually pretty awesome!
After dropping off the ATV's, we walked inside the hotel to find some fruit juice and water waiting for us. A lady dropped off the meal that we ordered for us to enjoy. I purposely chose casado so I can keep eating Costa Rican food, but it wasn't the best I had here. There was a small thing of rice and beans, a couple plantains, scoop of potato salad (what?) and this thing that's a cross between a tofu and cheese. Overall not impressed.
You can tell I had a rough day and didn't enjoy it as much as the other ones. When we got back to our room, we took a small power nap to recharge and headed straight for the pool again. We chilled at our usual spot and noticed there was no one at the pool bar! We didn't plan for it, but we decided to get the pina colada that everyone had been getting which came with a pineapple! Unfortunately for us, the literally ran out of pineapples just for the day. Great. Add to my disappointment. But the bartender was really nice and chatted with us for a bit and even gave us extra pina colada since it probably seemed like we were really disappointed. Nonetheless, the drink was actually really good and we were able to enjoy it in the pool with the sun out. Talk about that resort life!
We took our time drinking and went back to the room to change so we can head back to Downtown Fortuna one last time! We had the front desk call us a taxi and drop us off at a restaurant that one of the guides recommended so we knew where it was. It was actually on the edge of town so it was perfect for us to just walk down the street to the shops so we can get souvenirs. We went to about 5-7 shops before we realized that there's nothing really good to buy unless we wanted to get something that says Costa Rica, but pretty useless like mugs that people have a million of. We were stressing out about what to buy and just didn't end up getting anything because they weren't the cheapest either.
We were getting kind of hungry so we walked towards the other end to Soda Ama, which one of our guides recommended. A soda is pretty much a mom and pop shop that runs independently. They're also a lot cheaper than restaurants! We walked in to look at the menu and sat down to figure out what we wanted. We asked the lady for recommendations and we realized that she didn't speak much English– literally the first person this whole trip! Luckily there was this guy who did speak and translated for us. We ended up sharing the grilled tilapia since we were planning to restaurant hop. It came with 2 huge pieces along with fries and a salad. The fish was flavorful and actually super tender so that you can break it off with just a fork. Everyone was right… the tilapia in Costa Rica was really good! We finished up the whole plate and wandered out to see where we were going next.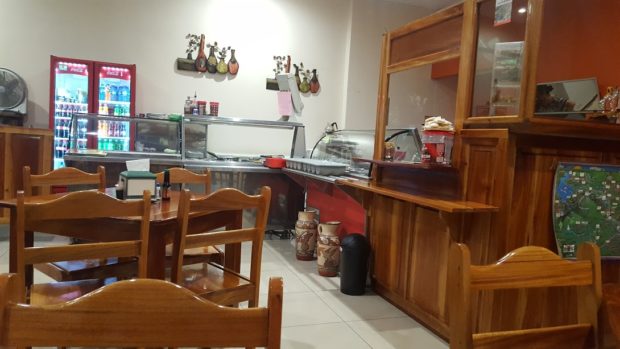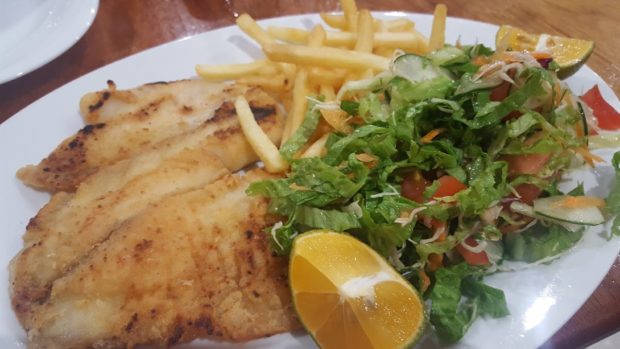 We kept walking back and forth to decide where to go next and passed by Lava Lounge, a bar that the locals kept telling us to go to. They also had food so we thought, why not and went in. I don't know why everyone kept telling us to come because it was extremely touristy. The place was filled but I don't think I saw a single local in there. We didn't feel like drinks so we both settled for a pineapple smoothie which wasn't as pineapple as I liked, but still good. We were going to also get food, but it was very Americanized so we passed. As we drank, we watched all of the tourist came in (no joke). We decided it was time for dinner #2 and headed to where we first got dropped off.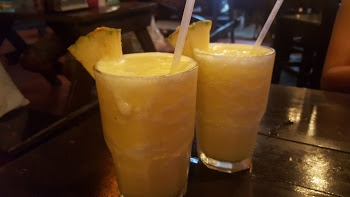 We looked at the menu and nothing stood out at us, so we considered going next store and we still weren't impressed and then we kept walking down the street to check out other menus. We actually settled on the place we went to the very first day, Restaurante Nene because we knew we would like it. We decided to splurge for the special which was a tilapia with shrimp. So that means tilapia #2 for the night and we still weren't sick of it. It came wrapped in foil and then lit on fire. When they opened it, I could smell all the butter and garlic on it. Yum! We dug in and not only did it taste like butter and garlic, but it cut like butter! It was so smooth and tender that we couldn't stop eating. We gulped it up real quick. Definitely a great last meal!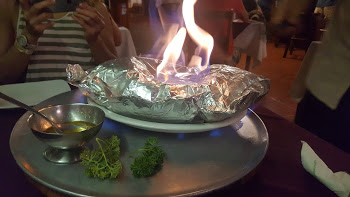 After dinner, I rushed us back to the resort because I wanted to squeeze in the last minutes of soaking in the hot springs. We quickly changed and went into the one with the jets and then our usual hot springs. Great way to end the night. Bittersweet, we went back to our room to shower and pack because we had to get up at 3:30am the next day to ride back to San Jose (3 hours) where the airport was.
To wrap up…
Overall, I couldn't be more happy with our action packed, spa chilling kind of vacation. Though we only went to one area of Costa Rica, I didn't regret it at all. The locals were fantastic and super friendly. Fortuna was super touristy, but the locals still did a really good job making sure we had a good time. I would 100% recommend going.
Pura Vida!