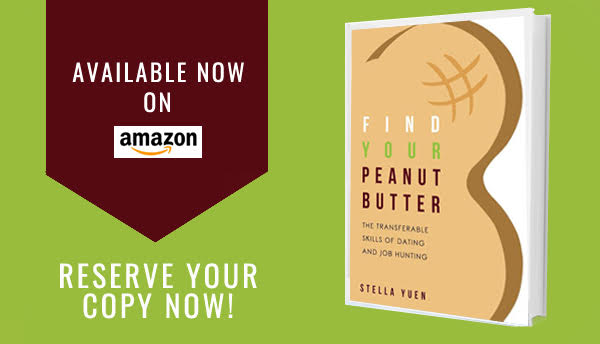 Ask yourself this:
Am I confused about the A-Z process of finding a job?

Do I have trouble writing a resume and cover letter?

Do I have difficulty telling tell MY STORY in an interview?

Do I struggle with how to follow up after an interview?

Am I ready to be proactive to getting my dream job?
If you answered yes to these questions, then I can help! Let me break it down– I know the job search process is not easy, but trust me, you've done this. How? Well, if you dated before, the process is pretty similar. From meeting someone new at a party to going on a first date, to securing the 'in a relationship status', you ultimately have what it takes to meet someone at a networking event, go on an interview, and securing that job. I'm going to pause now for the "ohhhhhhh!".
In my book, "Find Your Peanut Butter: The Transferable Skills of Dating and Job Hunting", I take a step by step approach to discuss the similarities between dating and job hunting to showcase that you do have the transferable skills to attain that dream job! This will include the step by step process from the beginning stages of your search to the end where you secure the job. It will also include a checklist to ensure you make the most out of the job search process.

Final Question: Are you ready to kick start your job search process? Buy the book HERE!