Highlights:
Breakfast
Canyoning
Pools
Dinner
Hot Springs
Day 4 and breakfast was still as exciting. I didn't come on this trip for the food, but it didn't mean I can't enjoy it! We walked in to find that they changed up the meat to chorizo which was still flavorful and delicious. We discovered that they were even making fresh eggs so I got one over easy. I was essentially eating the same breakfast everyday but I didn't care because it was so good! I didn't want any of that American stuff such as pancakes and toast. I could eat that back home. I went back for a second egg, tortilla and pico de gallo because I loved it so much!  I was full, but didn't want to leave. I know, I'm a fatass, but I needed the energy for the afternoon! After breakfast, we had a couple hours so I went back to the lobby write some more about my adventures before I forgot. About a half an hour before we were leaving, I went back to the room to swim suit up and put on my usual sunscreen and bug spray which we were later told that we didn't need because it was going to be shaded.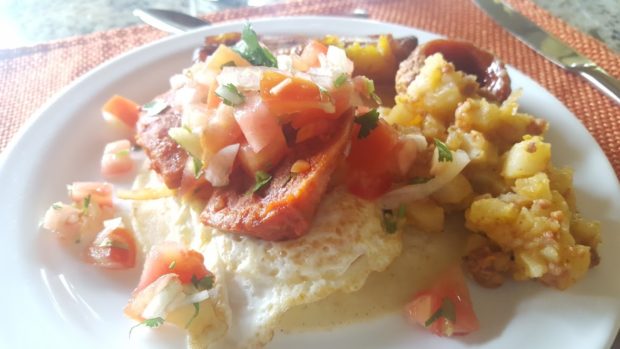 When it was time for Canyoning, we got on the van and headed the opposite direction to town again where we picked up a couple at another resort near the Pure Trek company. Then we went back to Pure Trek where it was literally down the street and they sat us down in some picnic tables and fed us a plate of casados before we headed out. I know I pretty much had the same thing for breakfast, but the chicken was delicious!!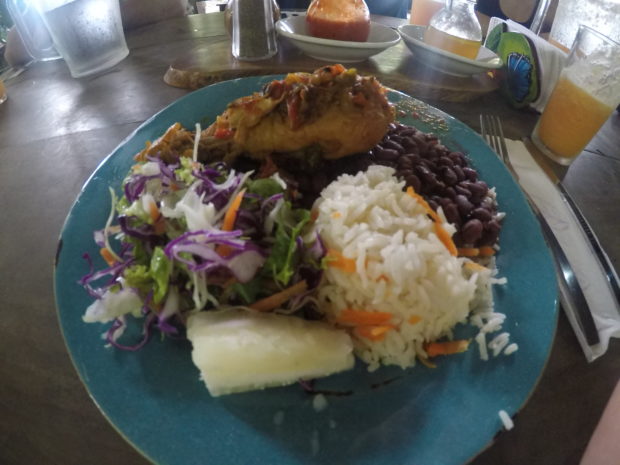 They loaded us in another van and drove us to the bottom of the canyon where we switched into "jeeps" to ride up to our first waterfall. We needed to switch cars because I guess the jeeps gain better traction than the regular van as we're going up a pretty steep, rocky hill. About 15 minutes later, we finally arrived and they helped us get our harnesses on. All the guides warn us that they will make sure that on this trip we have fun, and that we get wet. I could definitely attest to that afterwards! They gave us a quick tutorial of what to do such as where to place our hands and how to put our legs. The biggest thing is to trust the equipment and trust the guide!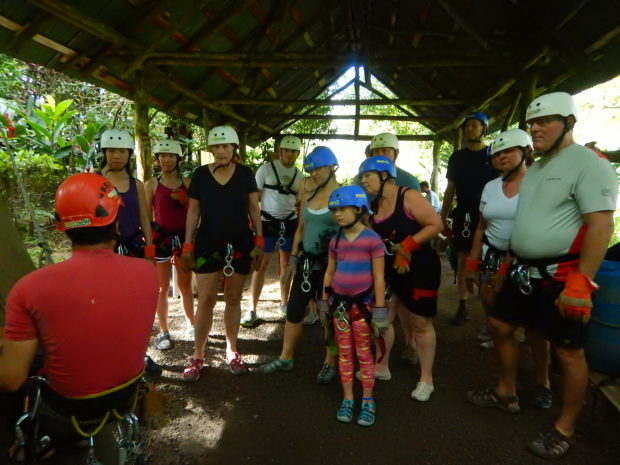 We started our small hike downwards where we landing on our first platform. They clipped us each to the rope and two by two, we went down our first rappel of 160 feet. I kept hearing screams during the middle and I was thinking, was it that scary? It was my turn and I looked over the edge to see the drop and the people who finished. It actually didn't really scare me since I'm not too afraid of heights. With that said, getting over the ledge was the most scary part, but once I got over it, it wasn't so bad. I slowly edged my way down the cliff, trying to remember what the guide told me. I lost footing a couple times, but as I continued, I got more confident.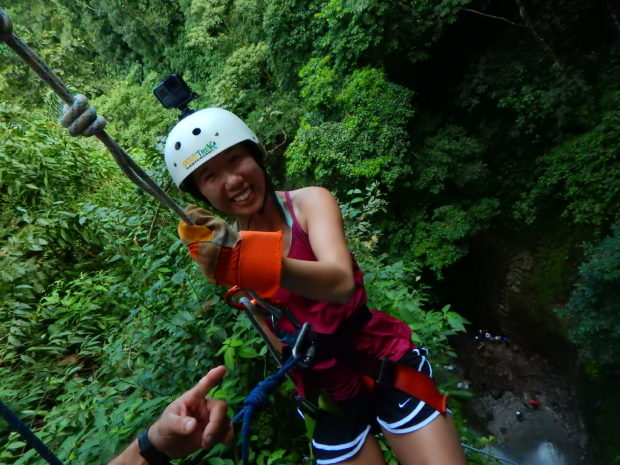 A few feet down, I looked to my right and saw the waterfall gushing down. It was awesome! I tried my best to rappel down without getting wet but towards the middle, the water was getting closer and closer to me (or was it the other way around?). Before I reached the bottom, I started losing some balance and was heading towards the waterfall. I later realized that the guide at the bottom was pushing me in on purpose, hence all the screams! Nonetheless it was thrilling and I was super pumped for the next rappel!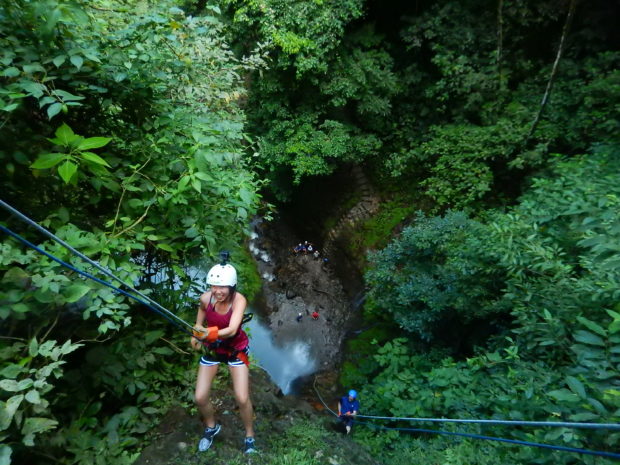 Next, we climbed up this little wooden ladder only to walk back down a little bit. The next one was pretty fun. We ended up doing a monkey drop where they swung us across like we were ziplining, dropped us halfway, and then literally dunked us in a pool of water. Hey, they did warn us that they were going to make sure we got wet! After the thrill of that, we took maybe a quarter mile hike to the next one which was pretty much like climbing down some rocks with some trickling water. Not at exciting.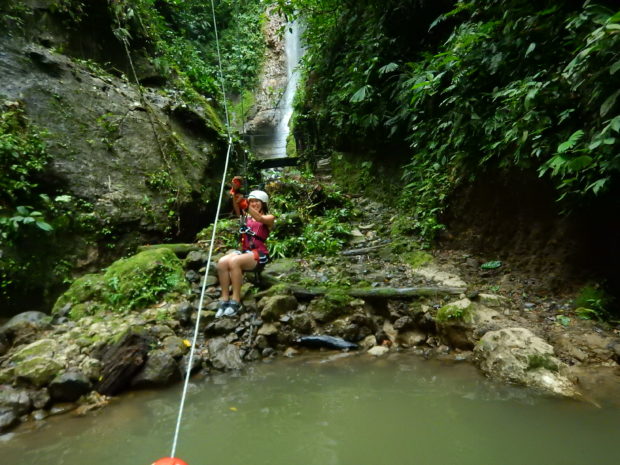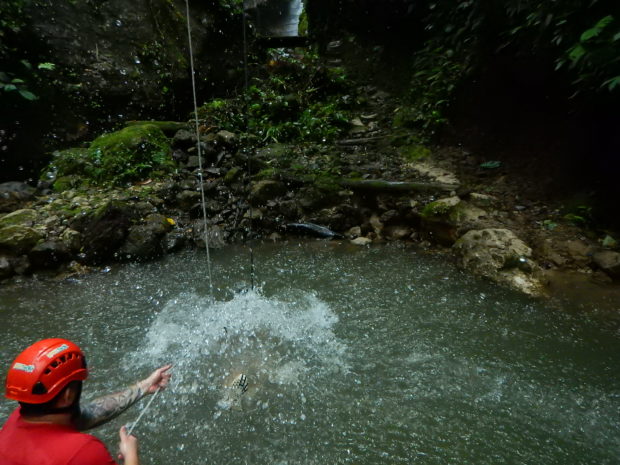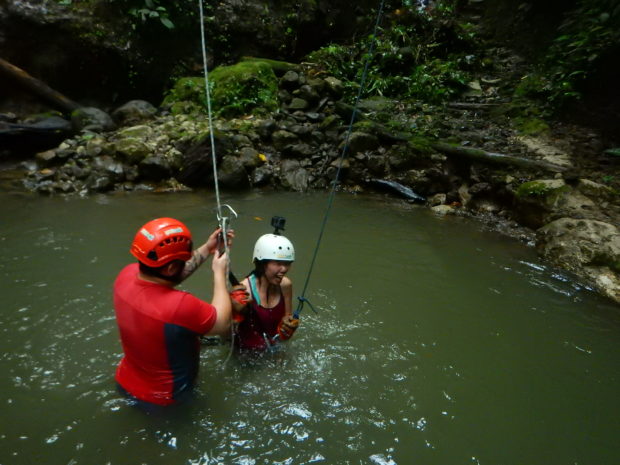 Our last was was a smaller and shorter version of the first waterfall, but this time, I went down a lot smoother than having to take little steps my first time. We wrapped up with a short hike back up and took jeep back to the van back to the Pure Trek office. On the ride back, they were hyping us up about having cookies and coffee when we came back and it lived up to the hype! The cookies were kind of like biscoff cookies and instead of coffee, I got a cup of hot chocolate instead which was light, creamy and not too sweet! We gathered around to look at the pictures they took of us on the TV and eventually bought the photos. Though I didn't really see the guy behind the camera, I felt like he took some really good shots!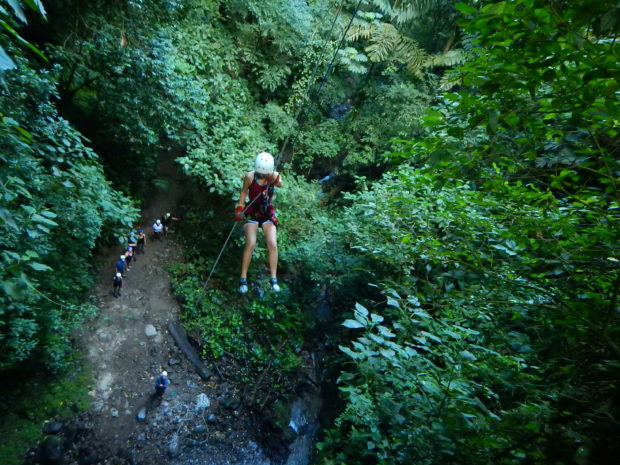 When we were ready, they bussed us a super short ride back to our resort. Since we were still wet, we pretty much just headed straight for the pool and hot springs! It was actually a pretty nice day with overcast, but it wasn't raining and it was warm so we decided to try out the pools. My sister really wanted to go to the big slide, which went straight into a pool and the water wasn't too cold that day. It was pretty fun (and slightly scary) because I was going so fast and had no idea where I was going. It didn't help that there was a tunnel that blocked my view before I dived into the water. It was actually pretty fun so we tried it again! Then we went to the next pool which had a shorter slide. That one didn't end up for me so well… The bottom of the pool was pretty shallow and I hit both heels as I landed in the bottom and I was pretty much bruised up for the rest of the trip and even after I came back. We took a cue and went back to the hot springs we normally hung out in to take a break. When we were getting a bit hungry, we went back to change and get ready for dinner.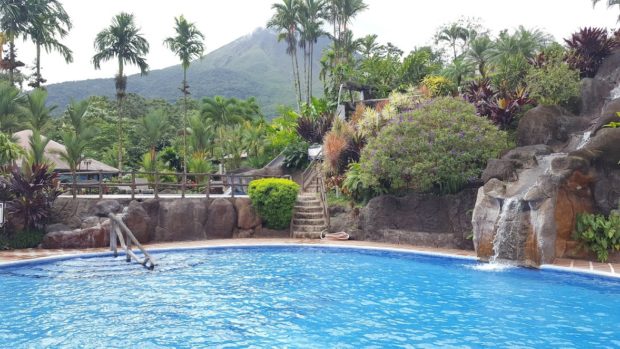 We went back to the restaurant again since we only budgeted to take a taxi to town on the last day. We decided to be cheap because we were on a budget and since we knew we were getting a dinner roll, we decided to only get 1 dish to share. Our previous dishes have been pretty big. We ended up getting the seafood casserole which when it came, we were pondering if it was even enough for one person! We decided to eat it and see if we were full. The soup was pretty good and had a good amount of shrimp and fish and it came with a small pile of dried rice. We weren't full so we ended up ordering ceviche again which made us more satisfied. We left feeling like it wasn't a good deal, but what can we do.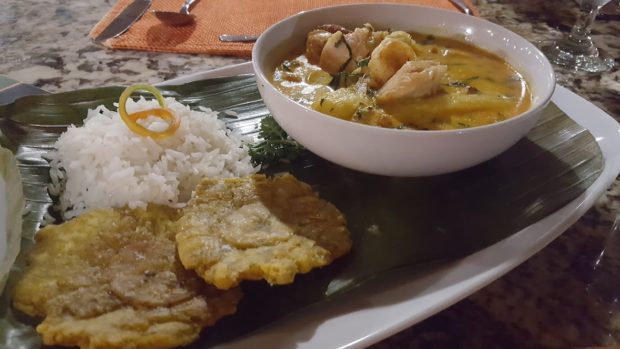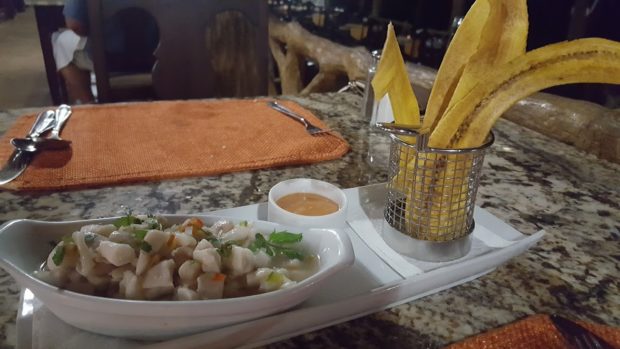 After dinner, we pretty much just chilled at the hot springs for the rest of the night at the ones with the jets and our usual spot. I swear, I haven't gotten tired of sitting in water at this point!